Let us help create a unique tradeable pin and/or magnificent award medals for your event. Yes, PIN and medal ENVY is a real thing. We can make it a reality for your competition and/or event. Custom creations is what we love to do!
Wildpins has been working with clubs and state organizations around the country for 20+ years. Our mission is to supply awesome trading pins, embroidered patches and award medals that will be easy on your budget and great for your event. We've created countless trading pins and award medals and saved chapters money each year. Check out some of our collection below going way back! Of course, we are much more advanced in our skills now. Let our talented artists help with design or submit your artwork or sketch and we'll clean it up, if necessary, and create an emblem you'll be proud of and students will cherish for many years to come.
To make a unique pin, we need to incorporate several things into the design. Trading pins will need specific components to best reflect the group name/organization/team info, geographical area, year, associated colors, conference theme, mascot, personal info, and other special information, depending on what it will be used for. However, usually, student competition creates a sketch or rough design (see example below) and we'll clean it up and make it suitable for production, upon your approval of course. They can be as complex or simple as you choose. 
After artwork approval, delivery is available in 10 days to 5 weeks depending on pin type, quantity and special additions that that you've chosen to jazz up your pins. So get with us early so you have more options available to blow out the competition. Rush service may be available with a 2+ day delivery time frame (Made in U.S.A. PRINTED option only). Rush pin can get very expensive, so try to leave enough time that this is not necessary. Please call for details.
Our talented trading pins artists are available to touch up your artwork or logo, or to produce a unique trading pin for you from scratch or based on your own design ideas. Request a free, no-obligation quote today! To see all the special effects that are available click here.
*Pins shown are merely examples of what we can do. Any copyrighted images displayed are only for the purpose of representing our quality, and are the expressed responsibility/liability of our customers, as we produce only what is requested. We do not sell customer's pins or pin designs.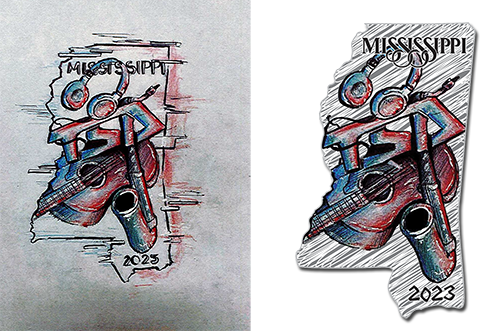 ~Sketch of design                                          ~Final design of pin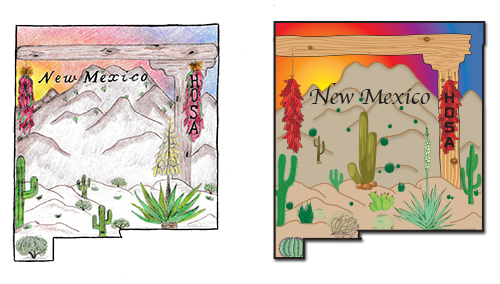 ~Sketch of design                                      ~Final design of pin